We came home from eight days on the island of Kauai to find the Republicans repealing Obamacare (again), and the House voting for a 40 million dollar cut in food assistance. I think I'd like to go back now.

We were in Kauai at the invitation of my cousin, Kay, and her husband, Bob, who own a timeshare on the north coast. They've been inviting us almost yearly for quite awhile, and after a busy spring and summer we took them up on it. Their daughter Kelly came along as well, and it was, of course, lovely.
The island has put a height limit on construction—no building can be taller than a coconut palm, which is about three stories—and it is more rural than Maui, the other island we've visited. Kauai is also known as the garden island; it has a rural feel to it that we found charming as well as relaxing. It has the views and flowers and food that one expects to find in such a place, and all those things added to our pleasure. But its most endearing feature—for me at least—was the presence everywhere of an unexpected jungle fowl—chickens.
There is disagreement about how all the chickens came to be there, but their forgotten history clearly didn't hamper them. They claimed the lawns of our resort, tiptoed over the wet pool surround, and wandered at will through the open-air bar. They patrolled the beaches, canvassed the shopping areas for food, paraded through the restaurants, and waited for us when we drove to see the sights. At dusk the mother hens shepherded their little ones into shrubbery, while the unencumbered hens and roosters flew into trees to roost. They also woke us each morning, but we quickly adjusted.
Here are just a few of the week's photos.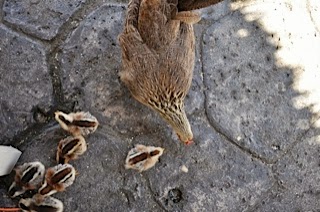 Hen and chicks know what they want at this (excellent) fish taco stand.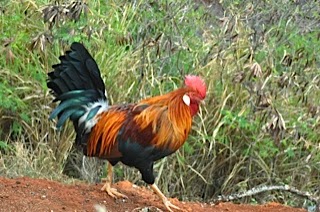 The roosters were some of the prettiest we'd seen—and they seemed to realize it.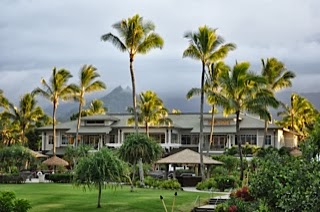 A foggy view of the mountains behind the resort's main building. It was often overcast and rainy, but always warm enough to swim.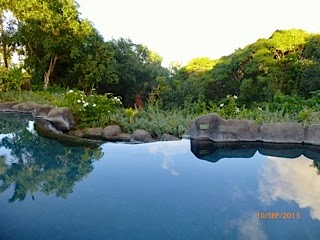 The "Quiet Pool," the smallest, and my favorite of three.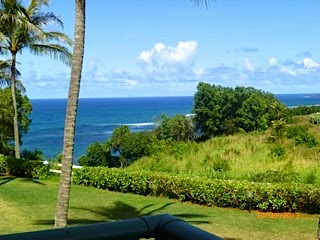 The view from our balcony.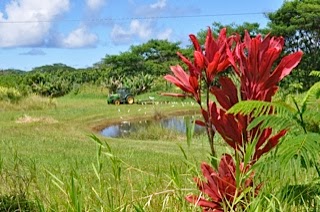 Kelly and Ray and I walked five miles through farm country one day.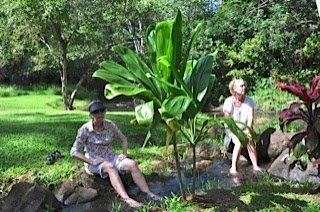 Then we cooled our weary feet in a stream.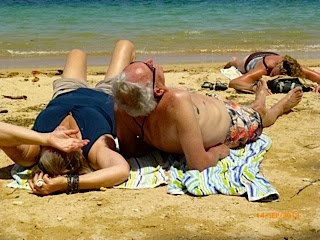 We went to the beach too. Here Kay, Bob, and Kelly soak up the sun.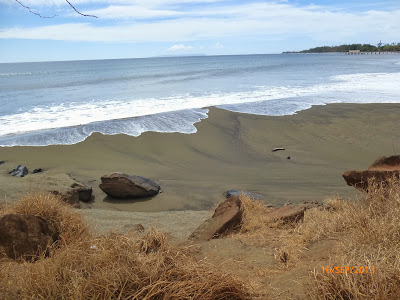 A pretty black sand beach on the south side of the island.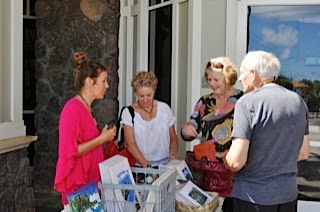 To say there were many beautiful things to buy would be an understatement. Here Kelly, Kay, and Bob choose prints by a local artist.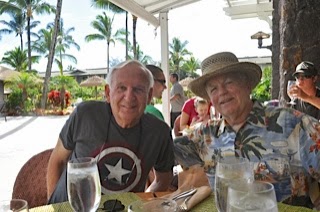 Bob and Ray at breakfast.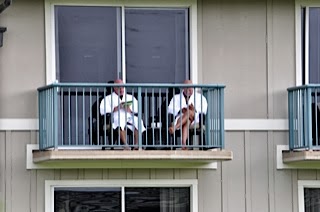 These two sat for hours on a balcony across from us. The Internet is so hard to resist . . .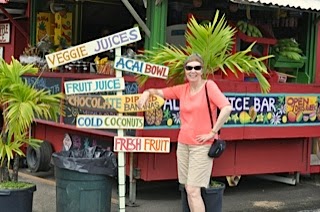 This juice bar was just too cute.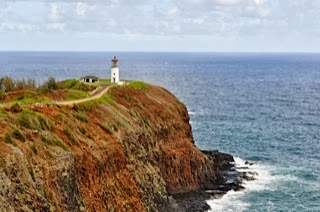 The Kilauea lighthouse, built in 1913. There were a variety of nesting birds on these cliffs.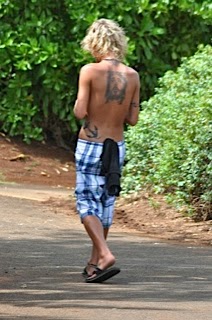 A young man spotted during a visit to the lighthouse. His tattoo is interesting.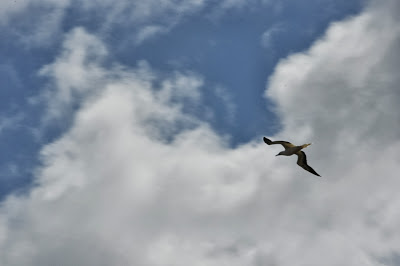 I always wanted to see a frigate bird; now I have. They have a wing-span of up to 7 feet.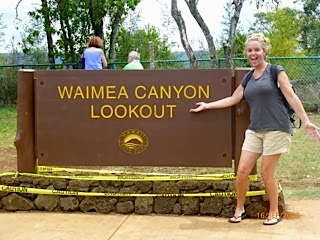 Kelly kept things lively.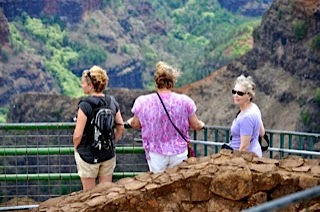 Kelly, Kay, and Karen at the canyon overlook.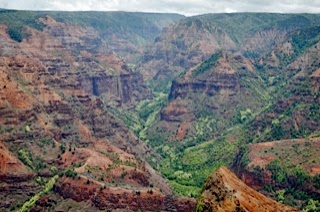 The colors in Waimea Canyon were extraordinary.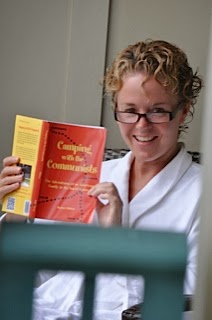 Kelly started her mornings right, with a few chapters from a proof copy of Camping with the Communists. Smart woman!
We felt very lucky to be where we were with people we love. But all things must end, especially vacations. Fall has found its way to Oregon, school is back in session, and work awaits. And there's still something to look forward to: I'll be interviewed next week by Jody Seay for her OPB show, Back Page—that will surely be fun.
---------
Today is International Peace Day. Please say a prayer, however and whatever that means to you, for all those suffering from the needless violence that plagues our planet.